Anniversary of 70 years of cooperation
released on 27.06.2023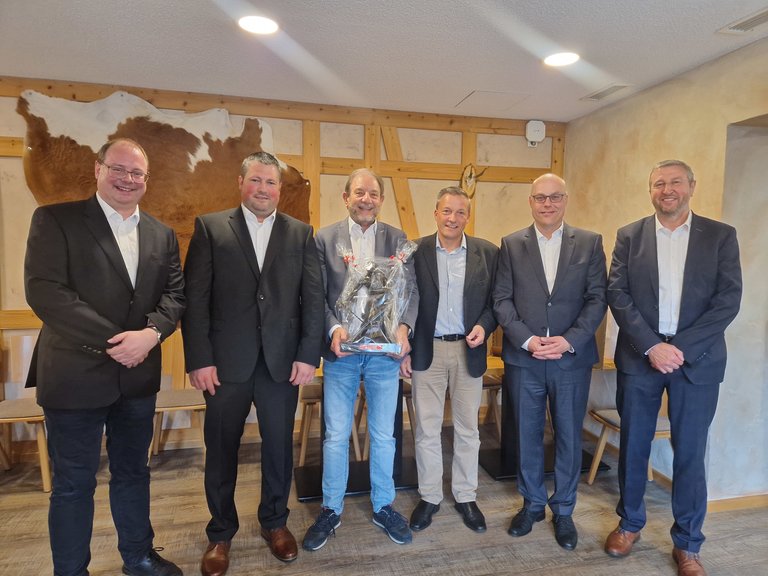 On 11 May 2023, an anniversary celebration was held at the Restaurant Sonne in Fridingen to mark 70 years of cooperation between Bornemann + Haller and Hammerwerk Fridingen. Our commercial representation Bornemann + Haller had invited the sales department and the management to celebrate this anniversary with them. It was a great and very entertaining evening to celebrate this memorable date.
Almost all the people invited by Bornemann + Haller from sales and management accepted the invitation to the anniversary celebration.
The gentlemen from Bornemann + Haller were very surprised by the gift brought by the sales department and the management, which will be given a place of honour in the headquarters of the agency, according to Mr Huber.
The original contract was signed on 13 April 1953 between Dr Esser and Dr Kessler on the part of Hammerwerk Fridingen and Mr Bornemann. Initially for the then district 14A, which at that time roughly corresponded to North Württemberg.
On 01 January 1960, Mr Haller started working for Mr Bornemann and received permission from Dr Esser to visit customers for Hammerwerk Fridingen in future, to look for new customers and to win them over. At that time, this was considered a sign of great confidence in Mr Haller as person. At his personal request, Mr Haller was allowed to do a practical training in the Hammerwerk for several months and among other jobs, he stood at the stretching hammer for several days.
One detail worth mentioning is that the contract was signed on 13 April 1953, even before Hammerwerk Fridingen GmbH was entered in the commercial register in May 1953.
After the death of Mr Bornemann in September 1966, the company was continued by Mr Haller under the name Bornemann + Haller KG. He did this alone at first, until Mr Rau joined him as his first sales representative at the beginning of the 1970s. Over time, the former representation area 14A was extended to the whole of Württemberg and later to Baden-Württemberg. As of 2008, Bornemann + Haller also became the contractual area representative for Bavaria. Among the representatives active at Bornemann + Haller today, Mr Wawra has been working for the Hammerwerk for 22 years, Mr Hoene for 28 years and Mr Huber for 34 years.
On behalf of the sales team and the management, we would like to express our thanks for the invitation and the wonderful time we spent together.
Hammerwerk Fridingen GmbH