Hammerwerk Fridingen sets the course for the future
released on 07.01.2020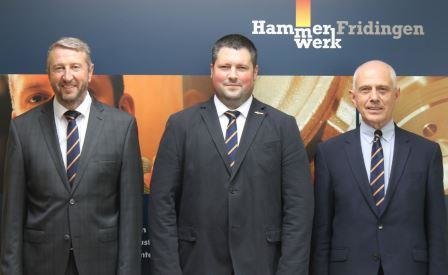 Hammerwerk Fridingen sets the course for the future
The Hammerwerk Fridingen GmbH, based in Fridingen on the Danube in the south of Baden-Württemberg, sets the course for the future. For this reason Mr. Dipl.-Ing. Alexander Schwaiger has been appointed to the management board (effective July 1st, 2020).
So far the company has been managed by Dr.-Ing. Frank Springorum and Mr. Holger Müller. End of May 2021 Dr. Springorum will be entering his well-deserved retirement after more than 17 years as managing director at Hammerwerk Fridingen, so that the coming months a gradual transfer of his duties will take place.
The appointment of Mr. Schwaiger ensures the continuous development of the company with its more than 600 employees at the sites in Fridingen and Cheb (Czech Republic).
After completing his studies Alexander Schwaiger joined our company in 2008 and he has assumed increasing responsibility over the years. Starting his career as an assistant, he became head of the maintenance department in 2013. In 2017 he took over the responsibility for our subsidiary HF-Bearbeitungstechnik GmbH (machining technology) and since 2019 he also manages the toolmaking department.
In future Mr. Schwaiger will be responsible for the entire technical field and the sales, while Mr. Müller continues the commercial management.
Hammerwerk Fridingen GmbH